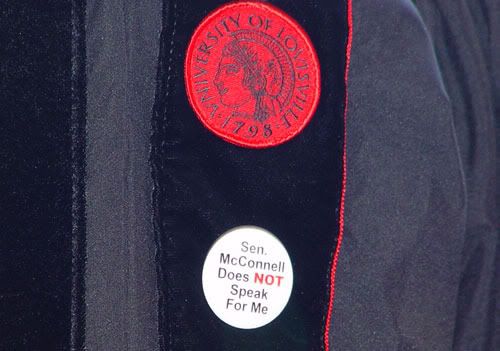 Yesterday, a group organizing via
Facebook
protested Sen. Mitch McConnell's convocation speech at the University of Louisville Brandeis School of Law's Graduation. Approximately 20 protesters shows up, with many more wearing buttons that stated "Sen. McConnell Does Not Speak for Me" throughout the whole ceremony. They are particularly angry about McConnell's support of the 1996 Federal Defense of Marriage Act, though I know that's not the only reason to dislike the Senator from an LGBT view point (or from a human point at all). In case you're wondering, the central argument against the vote is the breach of the
Full Faith and Credit Clause
of the Constitution.
From the press release (forwarded to me from the organizer, Curtis Morrison):
Many graduating students, their families and friends attending the graduation sported buttons that read "Sen. McConnell Does Not Speak for Me." Outside the graduation, about 20 activists protested McConnell's support of the Defense of Marriage Act. The Senator supported and voted himself to pass D.o.M.A. in 1996. Although the City of Louisville didn't anticipate any problems from the protest, even noting "No off-duty police provided" on the permit, there were several Louisville Police Department Officers on the scene for the duration of the 3 hour protest.

As the Graduation began letting out, one of the Off-Duty Police Officers moved a vehicle from a 30-Minute parking spot directly in front of the building to make way for a full-size cargo van from the University of Louisville's Physical Plant, which blocked the protesters from view of passing traffic on Broadway. The driver of the cargo van told Curtis Morrison, one of the protest organizers, that he had been instructed to park the van in that location.
The Hillbilly Report
covered the event
, and noted the obvious lack of local news coverage (or any of the local blogosphere, though our friends at
QueerLouisville pimped the event
beforehand, as did
Queerty
). The Report gives us this video of the event, including testimonials from people who participated:
There are also great pictures on
photobucket
and
Facebook
(I have received confirmation that the Facebook album is OK to release to the public; I am assuming the photobucket album is the same). It
did
 look like a fabulous day to protest, didn't it? 
I think they are doing the right thing, even if nothing comes out of this protest. It's about time we started pressuring people who voted for ther 1996 DOMA and reminding ourselves
who those people were (link for Senate)
. (
Complete list of House vote here
.) A lot of them are still in office, btw, which is as disturbing of a fast as the fact that it was passed so overwhelmingly.