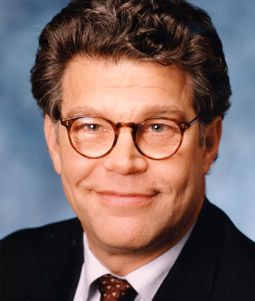 And, so, Al Franken has been declared the victor in the long, 8-month battle for the junior Senate seat in Minnesota, and he had
these words
to say:
"When you win an election this close, you know not one bit of effort went to waste. The way I see it, I'm not going to Washington to be the 60th Democratic senator, I'm going to Washington to be the second senator from Minnesota."
I have no idea what he really means by that statement except to say that I'm sure Hillary said something similar back when she got the Senate seat in New York. Political aspirations what?
The Democrats now control 60 seats in the Senate -- a filibuster proof majority -- which is as disturbing as it is exciting, but it also proves that Minnesotans love their outsider politicians, and 312 people in that state may be thinking, "What the fuck did I do on election day?"
Norm Coleman conceded and, I wonder, if that is, officially, the end of the 2008 election.