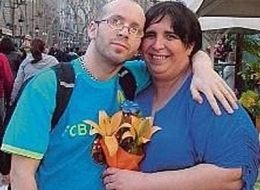 Picture thanks to the Huffington Post -- Coronado on left!
A Spanish man, born female, has announced that he is pregnant ...
with twins!
Ruben Noe Coronado of Spain announced his pregancy this week with his partner Esperanza. Coronado retained his legal female status to receive fertility treatments, but will begin the process of legally changing his gender...
... thus, another man will give birth!
From
pinke.biz
:
"To protect my children I'm not going to sell my story now or in the future. I've gone public with this so people start to see a transsexual pregnancy as normal. But I am thinking of selling the picture everyone's going to want of me looking pregnant. If I don't do it, someone else will and they'll make a fortune."
OK -- I'm not sure if anyone asked that question. Well, maybe they did, but *I* certainly didn't.
In related news, Thomas Beatie -- the first pregnant man -- is
going on about 6 months
with his second child with his partner, Nancy.